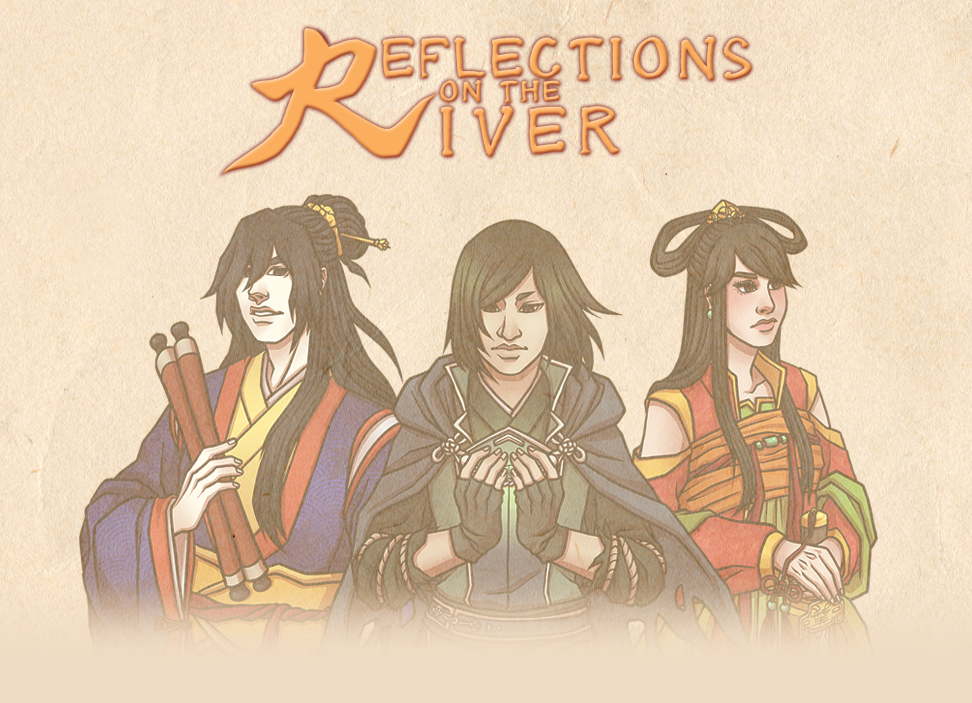 Reflections on the River
A downloadable game for Windows, macOS, and Linux
Once upon a time, in the far away kingdom of Nantu, a desperate King and Queen sought the help of a Witch. Although the Witch claimed no reward at the time, good fortune comes at a hefty price.
As the kingdom grew prosperous, so did the Witch's greed. Thrice did the Witch demand unreasonable recompense, but thrice was the Witch rejected. The visits stopped and for a short while, the kingdom knew peace.
Until one day the Witch returned, demanding the kingdom's most prized jewel, lest tragedy befalls the land.
Who will get their happily ever after in this fairy-tale?
Reflections on the River is a visual novel about fairy-tale promises, friendship, and filial piety.
Players will take on the role of Zheng, the Witch, and navigate their way through this fairy-tale, where seemingly everyone has a secret.
---
Overview
- 1280x720 resolution
- ~30,000 words
- 30 minutes playtime
- 2 routes, 7 endings
---
Credits
Writing, Art & Programming: PeroxidePrince
Writing: Tsu-Li Liew
Background Art: Kristi Hoi
Music: Otowabi, SHW Music, MusMus, Bensound, Purple Planet, Kevin MacLeod
Sound Effects: FreeSFX.co.uk, FlashKit, FreeSound.org

---
Download
Click download now to get access to the following files:
Reflections-on-the-River-1.1-win.zip
189 MB
Reflections-on-the-River-1.1-mac.zip
187 MB
Reflections-on-the-River-1.1-linux.tar.bz2
187 MB
Comments
Log in with itch.io to leave a comment.
There aren't any proper romantic routes in the game, but you're free to interpret the endings however you like as they're pretty open.
NICE! To all those out there, I HIGHLY RECOMMEND playing through all routes!

It's very rare for me personally to do this, but I enjoyed the game so much that I didn't mind going through the story again and again, especially since each playthrough towards a different route revealed more and more about the story.
A lot of combing through must've been done just to make sure one secret in another route didn't accidentally spill into the other!
Thanks very much for playing our game! We worked hard to make sure each route had different secrets but still felt satisfying, so we're happy to hear that you took your time finding all the endings.

I loved this game! I love the art and characters so much, especially Zheng. The plot twists and secrets were interesting but also made sense. The story was amazing, and it balanced serious and funny moments really well. It feels like far more than one month was spent on it.
I was also wondering whether a member of Stardust Soda was Chinese, because the mentions of food in particular were spot on! If not, then good job with the research!
One thing bothers me a little bit: while most of the information is consistent throughout all routes, I was confused when Zheng says the power from the jewel is familiar because it's theirs in one route, when in another they say that someone else's power was put in the jewel. Is this bit of background information supposed to be different between routes? That doesn't make much sense, considering the jewel was made before the start of the game. Clarification?
Thank you so much, we're happy to hear that you enjoyed our game! Both of us are Chinese by ethnicity but not by nationality, so some research was done.
There is actually one truth throughout the whole game, but not all of it is revealed in a single route. Zheng isn't a very reliable narrator, and they definitely lie to the other characters on more than one occasion, so it's up to the player to sort of piece it all together.

I am wondering if there a possible romance route becuase I having problems on find it
The intent of this story was to focus on non-romantic relationships, so there is no proper "romance route" in the game -- though you're of course free to interpret the endings however you like!

I enjoyed playing the game. It had a very interesting story, nice characters and the artwork is simply amazing.
There were so many twists and turns of the game, which made it very enjoyable to play! I really love the characters and the art is beautiful. I would definitely try out some other future games you guys might pull out!

Thank you very much for playing our game and sharing your thoughts! I'm really glad to hear that you enjoyed it. ★